With more than two decades of practicing personal injury law, Rosemary Pinto has earned an impressive record of courtroom victories, most of which were in cases that other lawyers had rejected as unwinnable. Even in law school, Ms. Pinto stood out among her peers as one of the preeminent litigators. She won the Villanova Law School Theodore F. Riemel Moot Court Competition, in which law students presented a series of arguments before trial and appellate judges.
As a trial lawyer representing injured victims, she has achieved some of the largest verdicts in Philadelphia against corporations and medical treaters in cases that were against seemingly insurmountable odds. Ms. Pinto has an extensive background litigating mass tort actions. In the past, she represented asbestos manufacturers and insurance companies in complex matters. Currently, she confines her practice to the representation of victims, including victims of defective drugs and products that have been irresponsibly marketed to the public. Ms. Pinto also has the added advantage in the courtroom of having practiced insurance defense law early in her career. With this background, Ms. Pinto is able to predict what the defense will do in nearly every case.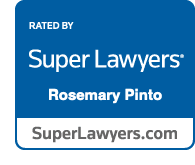 Ms. Pinto has been recognized by Super Lawyers as a "Top Rated Products Liability Attorney in Philadelphia, PA" since 2005, and has been recognized in Best Lawyers in America© since 2006. She is frequently asked to lecture to other lawyers in the areas of medical malpractice, product liability and improvement of trial skills by the Philadelphia Bar Institute, the Pennsylvania Trial Lawyers Association and the Philadelphia Trial Lawyers Association. Ms. Pinto has taught at the Beasley School of Law in the Trial Advocacy Program. She also participated in the Philadelphia Bar Association's program, teaching civics to high school students. She has appeared on television and radio in relation to cases litigated, her pro bono work and her work in the legal community.
Ms. Pinto credits her success in the courtroom to her background. Her father was one of the preeminent trial lawyers in the country and thus she developed a love of the law at an early age. In addition, as a former high school history teacher, Ms. Pinto believes that courtroom trials are very similar to teaching, because in both situations you are exposing a captive audience (that might prefer to be somewhere else) to a new set of facts or evidence, and you need to present the information in a way that is interesting so that the audience becomes involved in the process.
Ms. Pinto is a firm believer in our justice system and the ability of a jury of one's peers to weigh the evidence and come up with a fair decision. She says that it is the collective wisdom of a jury that gives it the ability to see through false statements and red herrings to achieve a just result.
Ms. Pinto takes an active role in politics by supporting both political candidates and judicial candidates that support the Constitution of the United States and our justice system in the hopes of ensuring access to justice for all, not just the wealthy corporations and insurance companies.
Giving back to the community is important to Ms. Pinto as an attorney, so she continually represents indigent clients, donates to and helps raise money for charitable causes and holds receptions for candidates seeking public office who support the rights of all of our citizens.
Ms. Pinto has been on the Board of Governors of the Philadelphia Trial Lawyers Association, the Philadelphia Bar Association, and the Pennsylvania Trial Lawyers. She has also served on the Board of Delegates to the Pennsylvania Bar Association.