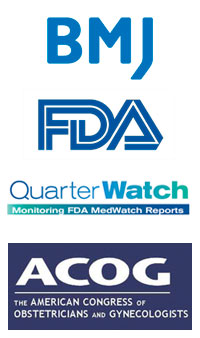 Numerous authorities have issued warnings of the toxic side effects of birth control tablets Yaz and Yasmin. In 2011, both the United States Food and Drug Administration (FDA) and the British Medical Journal published studies linking the synthetic form of progestin in Yaz with a significantly increased risk of blood clots and resultant deep vein thrombosis (DVT) and pulmonary embolism.
The Institute for Safe Medicine Practice's May 31, 2012, QuarterWatch report listed Yaz and Yasmin as the drugs with the second highest number of complications reported to the FDA in 2011. A few months later, in October 2012, the American College of Obstetricians and Gynecologists (ACOG) warned of the increased risk of blood clots from drospirenone, the synthetic form of progestin used in Yaz and Yasmin.
Yaz and Yasmin lawsuits brought against Bayer alleged that Bayer failed to adequately warn consumers of the dangerous risks of Yaz and Yasmin. So far, these legal actions have resulted in payments of approximately $1.75 billion by Bayer to women injured by Yaz and Yasmin. Bayer continues to settle additional Yaz and Yasmin lawsuits.
FDA Warns of Yaz Blood Clots
The FDA ordered the addition of a "black box warning" to Yaz and Yasmin labels in 2012, following the release of study results linking Yaz and Yasmin to serious blood clot injuries. FDA black box warnings are the most serious FDA warnings issued in regard to prescription medications. The intent of FDA black box warnings is to highlight particularly dangerous drug side effects. The FDA requires the black box warning to be prominently displayed in all informational materials related to a drug for which a black box warning has been ordered.
The black box warning ordered by the FDA for Yaz and Yasmin warned physicians against prescribing Yaz or Yasmin to women for whom these drugs are contraindicated. (A drug that is "contraindicated" should not be used in the presence of a particular condition or circumstance that makes it contraindicated.) Conditions in female patients that were listed as contraindications in the FDA's Yaz and Yasmin black box warning include:
acute or chronic kidney damage (renal impairment)
damaged adrenal glands (Addison's Disease, or adrenal insufficiency)
past or current breast cancer or other estrogen or progestin related cancers
uterine bleeding
hepatic (liver) disease or tumors (benign as well as malignant)
pregnancy
high risk for arterial or venous thrombosis
In addition to the above conditions, the FDA's Yaz and Yasmin black box warning also identified conditions that increase Yaz and Yasmin users' risk of suffering blood clots and related injuries. Conditions associated with an increased risk of suffering Yaz and Yasmin side effects include:
smoking and migraine headaches in women over age 35
headaches with aural / visual disturbances (focal neurological symptoms)
past or current pulmonary embolisms or deep vein thrombosis (DVT)
coronary artery disease (CAD)
heart murmurs, atrial fibrillation, bacterial diseases, and other heart conditions that can lead to blood clots
untreated high blood pressure (hypertension)
diabetes associated with vascular disease
cerebrovascular diseases
blood clotting diseases (hypercoagulopathies)
Feldman & Pinto no longer handles Yaz and Yasmin cases.

Please do not contact us about Yaz or Yasmin

. Thank you.